Thursday 11 July was a warm, balmy evening – perfect for our Annual Summer Party! The evening was a great opportunity for us to celebrate and look back over the first half of what has already been another successful year for WA – and of course to look forward to more success for the rest of 2019.
We were delighted to be joined by Katy Balls, the Deputy Political Editor of the Spectator and host of the Women with Balls podcast, who was on hand to talk us through her understanding of the current political landscape and give us her predictions for the Conservative leadership election. Katy quipped that it was great to be at a Westminster Summer Party where the speaker wasn't vying for the job of Chancellor – not yet at least.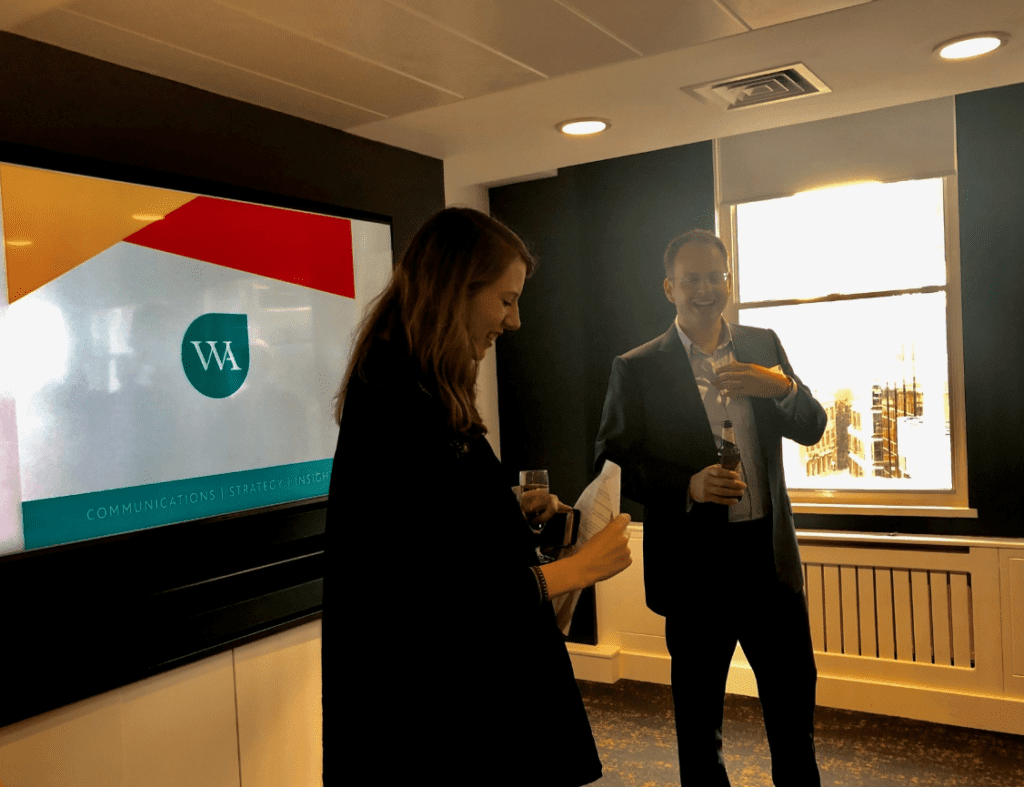 Whilst much of Westminster has all but accepted that the next leader of the Conservative Party is going to be Boris Johnson, this is not a dead cert according to Katy, who told us that not as many Tory party members have returned their postal ballots as had been anticipated. This means that there is still a lot for both Johnson and Hunt to play for, and a lot of room for both candidates to get things wrong.
As to the candidates' respective popularity with the parliamentary party, Johnson is now a lot more popular amongst his colleagues than had been previously thought – which we saw evidence of with his dominance of the parliamentary ballots. The parliamentary party needs a Brexiteer like Johnson to fend off the threat of the Brexit Party. However, Katy told us that it could also be put down to the Johnson campaign being a tighter ship than it was in 2016, being comprised of a strong team of experienced and respected advisers.
So, if it is to be a Johnson premiership, what would the government look like? Where May was often perceived to be threatened by the big names in her cabinet (leading her to choose loyalty over ability), Katy's view is that Johnson is happy to have a team of Tory party A-Listers, and that he wouldn't shy away from playing factions off against each other. Expect to see former leadership rivals in senior posts, and the return to the frontbench of Johnson loyalists.
Yet it is important to remember that the change in leader does not change the numbers in parliament, and the new leader is set to face many of the same challenges faced by May in terms of trying to push a Brexit deal through parliament.
Interestingly, Katy told us that Johnson is not as opposed to holding a second referendum as many might think, though it would be a last resort and he would, of course, campaign again for the 'leave' faction. Yet he would also likely pitch himself as a centrist and a liberal, Cameronite "One Nation" Tory to try to appeal to the middle ground of the electorate.
It was an informative discussion that helped to make the political climate seem a lot less murky – for now at least. We hope that everyone who attended found it as interesting and entertaining as we did.
A special thanks to Katy Balls for entertaining us with her insights, and to all our guests for joining us for a fantastic evening.
We hope to see you all at our next party!