The Prime Minister has moved to put clear blue water between himself and his predecessors in Number 10 and has broken the political consensus on how to reach net zero.
By delaying deadlines for phasing out new petrol and diesel cars until 2035 as well as scaling back requirements on phasing out new gas boilers, Rishi Sunak is seeking to give voters a clear choice between Tory and Labour environmental policy.
His decision generated favourable headlines in right-of-centre media but has alienated powerful voices in the business lobby.
Marc Woolfson, WA's head of Public Affairs, draws eight early conclusions from the announcement.
This is a highly political move to create clear dividing lines with the Labour Party on net zero policy – as well as who should pay and when. The government is betting that voters will welcome the removal of costly and inconvenient interventions on home heating and insulation.
The political strategy behind this was to force Labour to take contentious positions and make financial commitments that could damage its economic credibility. At a political level, Number 10 will feel happy that the PM's statement has landed well with the audiences it was intended for. It has been lauded by right-leaning media. But there are questions over how effective it has been in damaging Labour.
At first blush, Labour appears to have managed to avoid the 'bear traps' that have been set for the party, taking a nuanced approach to the various measures announced in Sunak's speech. It has vowed to reverse the PM's decision to kick the ban on new petrol and diesel cars down the road. In contrast, it has committed to assessing measures designed to decarbonise heating more fully if it wins the election.
Many of the reasons Sunak gave for implementing the delay echo concerns that many in industry as well as would-be drivers of electric vehicles have already raised – notably on EV charging infrastructure, lack of access to grid connections and an underdeveloped UK battery industrial supply chain. Interesting, then, that powerful voices such as the Ford motor giant and the SMMT industry body have been among the loudest voices protesting against the announcement.
As ever, the devil will be in the detail. Across the economy – particularly in the power sector – reforming grid infrastructure has been the number one concern of businesses for some time. The rhetoric from the Prime Minister gives industry confidence, but there will be a need to see exactly what this means in practice and whether it can bring forward the time it takes to build new infrastructure.
Massive investment is needed to overcome these challenges, which requires confidence and a stable policy framework. Sunak's announcements, whilst framed as pro-consumer and (at least partly) in line with the concerns of business, are likely to weaken the UK's attractiveness as a destination for global investors. The potential future economic gains and jobs that have underpinned the political consensus up to now may also be under threat.
Beyond the specific measures, the general mood music will leave a lingering concern amongst businesses that as the election gets closer, Number 10 may feel that it is politically convenient to scale back other elements of net zero policy. Those parts of power or industrial decarbonisation that are seen as particularly costly or disruptive to the public, such as critical electricity pylons to connect new renewables projects, or essential low carbon technologies that come with significant price tags may be particularly vulnerable. Recent scrutiny of a consumer levy to fund new hydrogen projects may offer a glimpse of what is to come.
It's a useful reminder to business of the importance of looking at new proposals through the lens of consumer affordability. In the run-up to the election, clear evidence of how specific projects and policy ideas deliver best value for money for taxpayers or billpayers will be crucial.
Significant details still need to be fleshed out, following the headline announcement. Labour also has to decide whether to hold onto positions which opponents in Parliament and in the media will portray as anti-consumer. The party must hope that its Industrial Strategy can convince a sceptical public that there are major gains to be made. Whether this will resonate on the doorstep in the heat of an election campaign remains to be seen.
Our analysis of the media coverage of Sunak's announcement shows that he has won the staunch backing of the popular press and right-wing commentators. While he generated huge media interest (14,000 mentions across traditional media), coverage has been broadly neutral.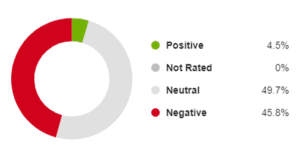 The same could not be said for social media, where the great majority of posts are critical.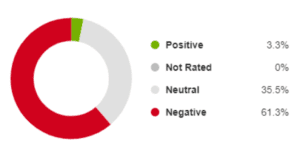 Join our webinar on Wednesday 27th September, to explore what these recent Net Zero policy changes mean for transport and energy businesses — Chaired by WA Director Angus Hill, with insights from Nathalie Thomas, writer of the FT's Lex investment column and the paper's former energy correspondent, and Sam Hall, Director of the Conservative Environment Network.
Date: Wednesday 27th September
Time: 4.00pm – 5.00pm
Location: Zoom Webinar
Please RSVP to events.rsvp@wacomms.co.uk