Skills reform is a key priority for both the government and opposition, as policymakers look to grow the economy, boost productivity, and ensure workers have the skills required to support the jobs of the future.​
At present the outlook looks uncertain; the UK has a serious skills gap. There is a heightened awareness of the need for graduates to have a diverse range of skills – something that is recognised by policymakers and employers alike ​
Investment in skills and apprenticeships has become a clear Government priority: Skills Minister Robert Halfon has long championed apprenticeships and believes that investment in skills is the best route for the Government to take to create economic growth and productivity. Education Secretary Gillian Keegan is a former apprentice herself and is committed to improving the lifelong learning pathway​
As such, the Government is likely to prioritise and expand support for degree apprenticeships as it looks to rebalance the funding and focus of post-18 education, publishing the long-awaited Higher Education Bill and taking forward the recommendations from the Augar Review.​
Equally, Labour's Shadow Education Team want to deliver a "landmark shift in skills provision", with ambitions to devolve adult education and skills budgets to metro mayors and combined authorities, and to give businesses more flexibility to use skills funding to meet specific employer needs.​
WA commissioned public research to understand the awareness and perception of degree apprenticeships, explore the perceived barriers to undertaking one – and assess what this means for skills providers, as well as existing higher and further education institutions. Download our findings below.
Unlocking the potential of Degree Apprenticeships [PDF]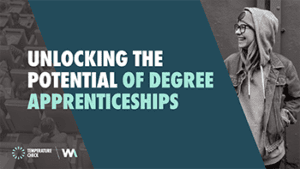 To explore our analysis in more detail, and understand how these points apply specifically to your organisation, please get in touch – by email at lornarussell@wacomms.co.uk.